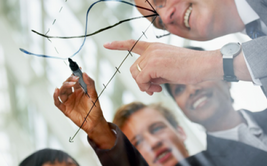 Kingdom Developers Consulting Inc. (KDC) is an innovative consulting firm with a reputation for providing effective leadership, problem-solving, and value creation to underperforming organizations. KDC offers services across private, corporate and public sectors.

Having seen first hand what can go wrong, KDC provides management and advisory services to help organizations navigate the snares that could impede success, as well as avoid many common mistakes made in growth. Working as an extension of your organizational staff, and becoming passionate about your mission and vision, your success truly becomes our success.
​
Our consultant works with organizations to assess, identify and deliver services needed.
ORGANIZATIONAL DEVELOPMENT
MANAGEMENT & ADVISORY SERVICES
LEADERSHIP & PROFESSIONAL DEVELOPMENT
(services designed to bring out organizational possibilities)​



Infrastructure development & support

Mission, vision, goals & objectives

Policy/Procedure development & writing

Human capital alignment with business strategy

Business process mapping

Project/Program planning

Business assessment

Business continuity

(services designed to make organization more available and effective)



Strategic planning

Corporate change management

Corporate risk & crisis management

Contingency planning

Performance & compliance audits

Fund development

Financial management

Contract management

Research assistance

(services designed to elaborate or enlarge current organizational processes)



Training & staff development

Board & advisory members skills development

Strategic partnerships

Meeting facilitation

Mentoring leadership






The goals of our practice are to learn what our clients expect regarding the difficulties they face and then help them to achieve these goals. Our role as consultants is to listen, teach, and encourage, while your role as a client is to express concerns, learn, and implement that learning.

Pricing for consulting services start at $125.00 per hour, but may vary per client.
For a detailed estimate and further information, please call us at (216) 481-8585, or email us at info@kingdomdevelopersinc.com!